OUR MISSION
Acquisition and utilization of spatial information
Research and education are conducted on methodologies to acquire, process, and utilize geospatial information for disaster prevention, environmental protection, city planning, and traffic management. n particular, we focus on satellite remote sensing, 3-D digital photogrammetry, laser surveying, geographic information systems, and location identification using mobile phone for monitoring, modeling, and management of urban and natural environment.
RESEARCH EXAMPLE
Assessment of disaster damage and environmental changes by remote sensing
Satellite or airborne sensors can regularly observe temporal changes of the national land and the environment at global or regional scale. In this project, we are developing methodologies for observing the current state and changes of the Earth's surface using optical and radar sensors for disaster prevention and environmental protection.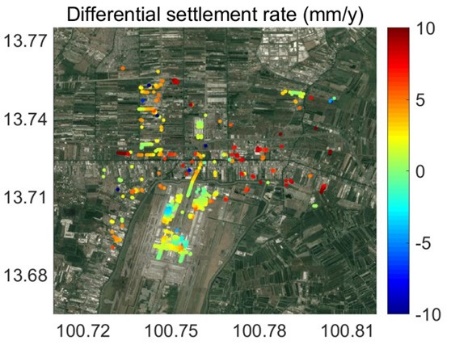 Differential set-tlement, i.e. gap between building base and sur-rounding ground, of Bangkok Airport estimated from temporal SAR images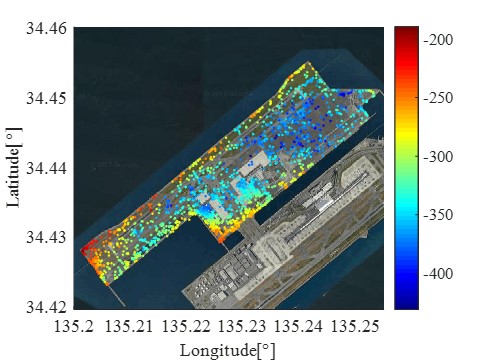 North-south direction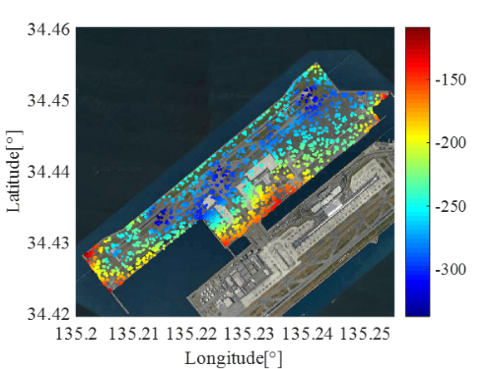 Vertical direction

Three-dimensional displacement of Island II of Kansai International Airport estimated from temporal SAR images and GPS data
Assessment of urban pedestrian space based of the concept of walkability
For realizing livable city or healthy lifestyle, expanding pedestrian space is becoming more important. We focus on the Walkability Index, which enable to grasp objectively and widely how walkable the neighborhood is in urban area. Using Geographic Information System (GIS), we analyze environmental factors corresponding to physical activities. We aim to develop methodology for expanding pedestrian space effectively.

Changes of components of walkability index around the Kusatsu River site park (Land use mix at left and intersection density at right)
Observation of moving objects in urban area and its utilization
For vitalization of urban area, it is important to enhance smoothness and safety in mobility of people. Accordingly, we apply GNSS, mobile phone and video image related technologies for observation of moving objects such as travelers and cars, and attempt to propose proper utilizations of the observations to mitigate congestion, prevent serious impact from disaster, enhance tourism and so on.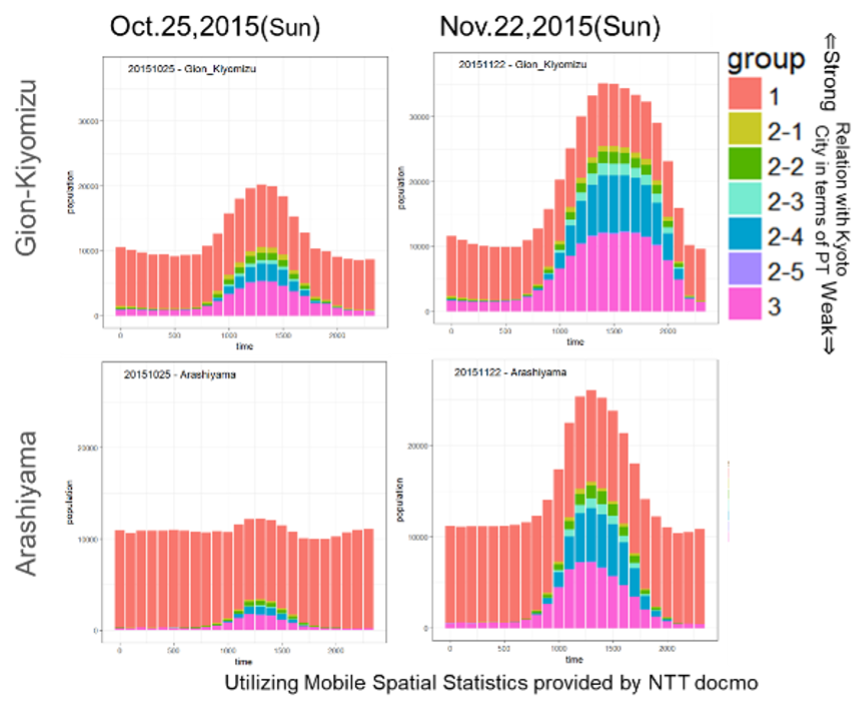 Temporal distribution of visitors by using mobile spatial data
MEMBERS
Faculty and staff
Professor: Junichi SUSAKI
Associate Professor: Tetsuharu OBA
Assistant Professor: Yusuke KIMURA
Technical staff: Amane KURIKI
Secretary: Kumiko SATO
Students
Master Course
Serge GARRIGUE
Tomoki KOBAYASHI
Yuka TERANISHI
Tomoka TOGIYA
Takahiro HARA
Undergraduates
LINKS